digital photography with an analog soul
Whether he's shooting pictures of musicians or stalking the streets of cities his images are basic, minimal, and compelling. Born in Germany in 1983, Robert Winter started shooting pictures at the age of 20 after fortuitously finding a camera in a bar! Now a full-time pro that shoots bands and musicians for music covers and promos, he also travels a lot doing street photography and documentary work. He lives in Cologne with his wife Gizem. Here is the amazing and heartfelt story of his creative journey.

Q: How would you describe your photography?
A: Basic, minimal. I do digital photography in an analog way.
Q: What approach do you take with your photography?
A: I see it as a way to collect images that mean something to me and show the world how I see things.
Q: How did you first become interested in Leica?
A: I was always fascinated by the traditional documentary style of Magnum photographers and in Life Magazine and then found out that most of these images were shot with Leica M series cameras. They had this typical style — hard high-contrast, black-and-white. It was always my dream to explore the world one day with an M series Leica, which sounds cliché, but it's the truth.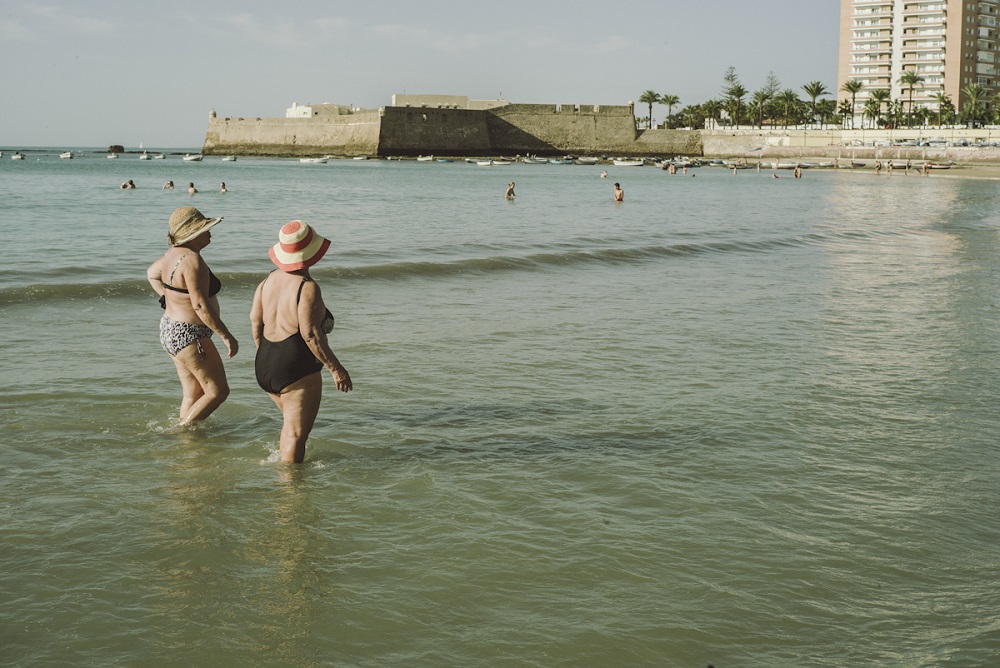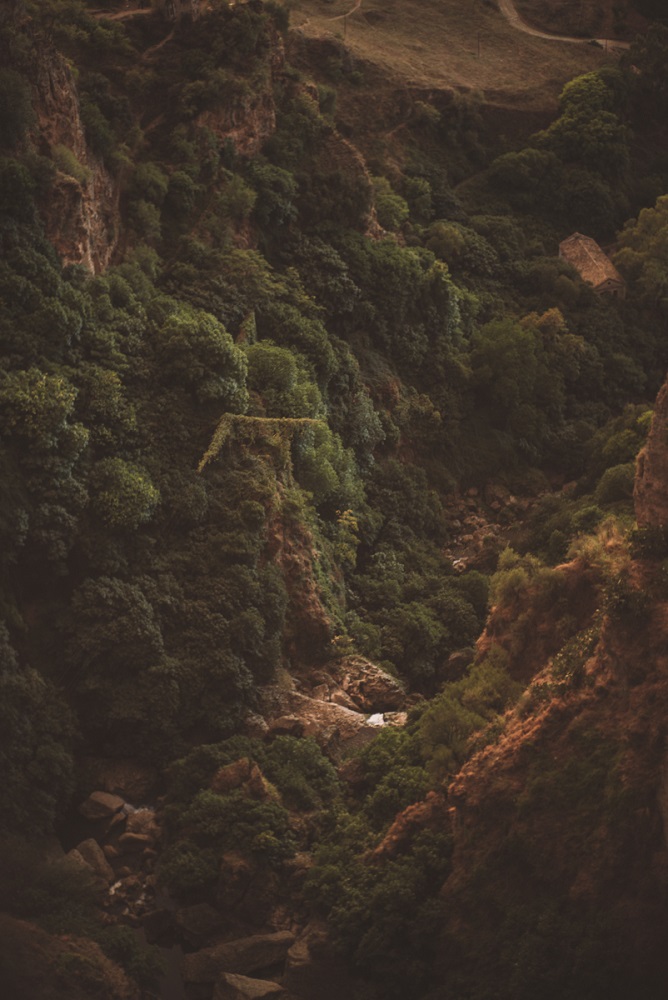 Q: What camera equipment and lens(es) did you use to shoot the photos presented here and where exactly in Andalusia in Southern Spain were they taken?
A: I used my new Leica M with a 50 mm f/2 and 35 mm f/2 Summicron lenses for all of these images. They were shot at various locations as I traveled from Málaga around to Granada, Ronda, Cádiz to Marbella and back.
Q: Do you consider your photos to fall in a specific genre?
A: I would say they're definitely in a documentary style. I do a lot of portraits as my job, but even then I try to get a natural look, to capture a special moment of the person I'm photographing. And I also do a lot of classic street photography, traveling around, discovering new cities with my camera and showing the people in the streets. Every photo I capture digitally could be also have been made on film.
Q: When did you first become interested in photography?
A: I found photography as a way to express myself. I did graffiti and music before and became a photographer later. I was always an avid music lover and I have a big record collection. I like the idea that a record cover gives the sound on the record a face. The cover tells a story, brings you into a mood, and it's the first impression, even before you've heard the music. Photography was for me the best way to do this.
Q: As a photographer that embraces the documentary style and travels around discovering "new cities…and people in the streets" what are some of the specific features and characteristics of the Leica M that you find especially useful in your kind of work? And what is your favorite M-series lens?
A: I really like the wide-aperture lenses and the great low-light performance of the sensor that lets you shoot quite easily in the evening or in bad lighting situations. Normally I don't use flash and just work with available light. Another big benefit is the size of the camera. The camera is not nearly as big as my SLR but the quality of the pictures is even better. The detail in the images is exquisite and they're very sharp.
The photos I like are those where it's evident that the photographer hasn't altered the scene and when the subjects don't know that someone has taken their picture. When they do, most people react, and the natural look and feeling is compromised. The size and the traditional look of the camera helps me to achieve authentic, natural-looking images.
I guess the lens I like the most is the 35 mm but I don't have one yet — I just rent it from a friend. The 50 mm corresponds to exactly what I see, so I like it for portraits, but with the 35 mm I can include a little bit more. I like this because it comports with my style of simple composition with one highlight.
Q: There is something that is both uplifting and also disturbing about your masterfully composed landscape image. On the one hand it reveals a harmony between man-made and natural elements, but on the other, its natural beauty is compromised by the array of wind turbines and even the tilled land and the bridge over the water. Do you agree, and what are your feelings about this image?
A: Yes, you are right. What I like about that picture are the green and yellow surfaces and the river itself in the foreground. It seems more silent the farther you look and more stuff is going on. Then there comes the bridge, the hills, more colors, the sky full of clouds and the windmills. I like the fade from silent to restless!?
Q: For some reason another landscape image gives me a greater feeling of serenity and contentment even though it is dominated by large residential structures. The harmony between man and nature here is of a different order, and somehow feels less oppressive, and seems to convey your summery theme more effectively. Am I over the top here, and how do you see it?
A: This one was a lucky shoot. It was drizzly and rainy the whole day and shortly before sundown the rain stopped and the sun comes out. It turned everything purple and red, so the colors are definitely real. This journey was also a kind of search for me; I didn't know beforehand exactly how the summer would look.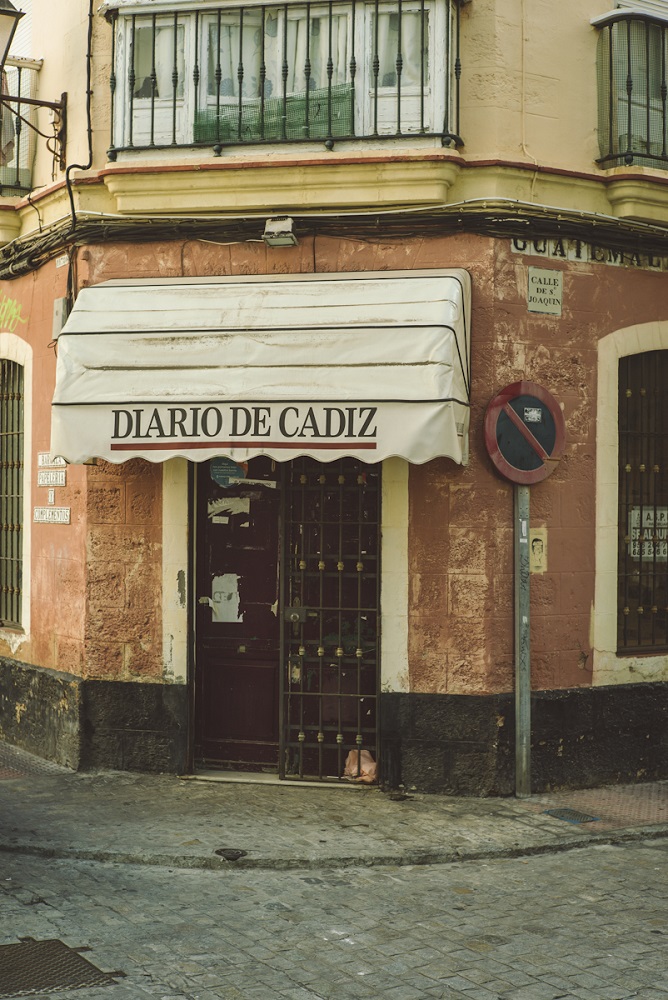 Q: I like this image very much because of the off-center composition and the color, and I also find it subtly ironic — a line of people waiting to get into the tobacco store to buy products that will destroy their health while the pharmacy next door (where they can presumably buy things to enhance their health) looks vacant with open doors. Were you aware of the irony when you took the picture, and what were you thinking when you pressed the shutter release?
A: Yes I took the photo precisely because I was aware of the situation; I saw it and thought it was funny. I like to take pictures with a little eyewink.
Q: How do you see your photography evolving over the next few years and do you have any other projects in the works, either documentary or music related?
A: Hmm, I can't really say at the moment but my intention is to continue doing what I have done for the past few years. I'll travel and I hope to see a lot of good stories and tell them. I guess if there is a master plan then it's just to keep going. I hope that a lot of bands and labels will call me and ask if I have any ideas on how to visualize their music. I hope more people send me somewhere to document exciting stories. Personally, I hope to have more opportunities to experience new things that parallel what I've done in the past.
I'm working on a book right now, slated for publication by the end of the year that will mostly feature my music photos and portraits. Some day I'd love to have a book published devoted solely to just my street art photos. That would be very fulfilling.
Q: Do you plan to explore any other genres other than documentary work and portraiture such as landscapes, architectural photography, sports, wildlife, action photography, or fine art abstractions?
A: I would never say never, but there are certain types of photography that just don't interest me, sports for example. I have shot some landscapes, but I'm not really focused on this genre. Concert photos or some other kind of action photos are a possibility, and as for fine art I'm actually working on some abstract stuff. Like I said, I like to play with shapes, surfaces and structures … so let's see … I found my camera, now I can work on.
Thank you for your time, Robert!
– Leica Internet Team